St. Mother Teresa of Calcutta Novena
New here? Join us in Prayer! Click here to get novena reminders by email!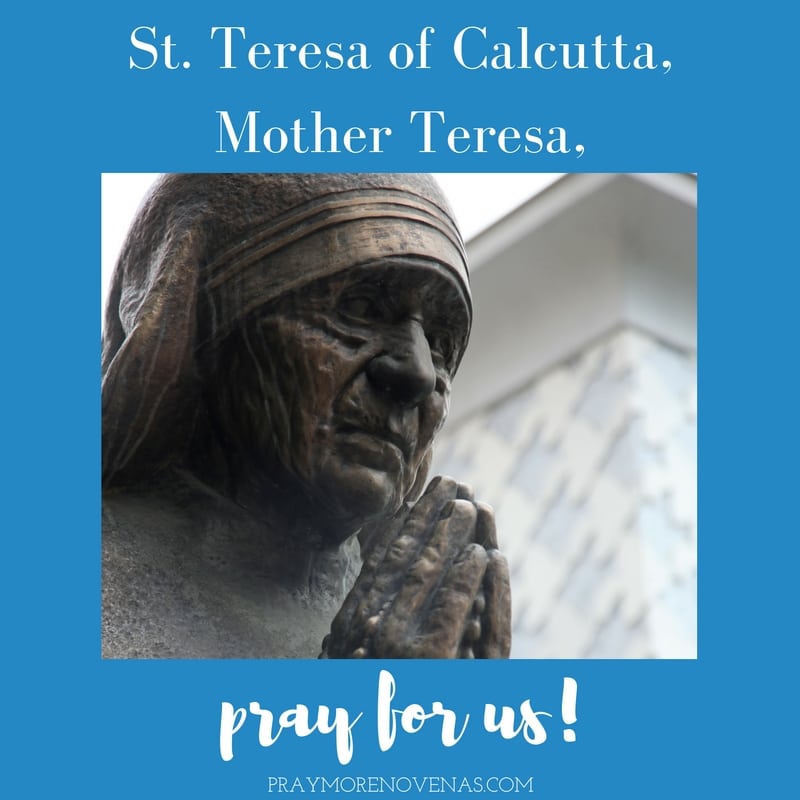 About St. Mother Teresa of Calcutta
Mother Teresa was born Gonxha (Agnes) Bojaxhiu in Yugoslavia. She was the youngest, with an other sister and brother. Her father died suddenly when she was only 7 years old which made life difficult for her family.
At 18 years old, Gonxha decided to join the Loreto Sisters of Dublin, missionaries and educators founded to educate young girls. When she made her first vows she chose the name Mother Teresa, honoring both saints Teresa of Avila and Therese of Lisieux. She was then sent to a high school to teach in Calcutta. She taught in the school for many years.
One day, she was riding a train on route to a retreat when she said that Christ spoke to her and told her to abandon teaching to work in the slums of Calcutta aiding the city's poorest and sickest people. This was a clear message, an invitation to her "second calling".
Mother Teresa quickly translated her second calling into concrete actions to help the city's poor. She began an open-air school and established a home for the dying destitute in a dilapidated building she convinced the city government to donate to her cause. She, then, founded a new congregation called the Missionaries of Charity.
Mother Teresa's tireless work and service resulted in the establishment of a leper colony, an orphanage, a nursing home, a family clinic and a string of mobile health clinics. She opened her first American-based house of charity, and she secretly went to Beirut, Lebanon, where she crossed between Christian East Beirut and Muslim West Beirut to aid children of both faiths. Mother Teresa spoke at the United Nations General Assembly in New York. While there, she opened Gift of Love, a home to care for those infected with HIV/AIDS.
Mother Teresa continued her work among the poorest of the poor, depending on God for all of her needs until her death. Numerous honors had been awarded to her throughout the years. Most notably, she was awarded Nobel Peace Prize in recognition of her work "in bringing help to suffering humanity."
She died in 1997 at the age of 87. In 2002, the Vatican recognized a miracle involving an Indian woman who was cured of an abdominal tumor through Mother Teresa's intercession. A second miracle involved the healing of a Brazilian man who was diagnosed with a viral brain infection and lapsed into a coma. His family prayed to Mother Teresa and the man woke up without pain and was cured of his symptoms.
Mother Teresa was canonized as a saint on September 4, 2016 by Pope Francis in St. Peter's Square in Vatican City. Tens of thousands of Catholics and pilgrims from around the world attended the canonization.
St. Mother Teresa of Calcutta Novena Prayers