St. Clare of Assisi Novena
New here? Join us in Prayer! Click here to get novena reminders by email!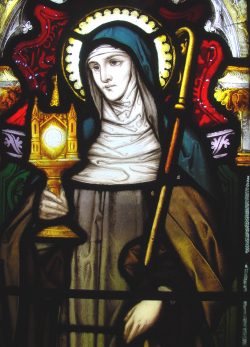 St. Clare, also known as St. Clare of Assisi, was 18 years old when she heard St. Francis of Assisi preaching. His teachings influenced her to change her whole life and dedicate it to God. She became the first female, "Franciscan". Clare and Francis became lifelong friends and he was her spiritual guide.
Clare founded the Franciscan Nuns of the Second Order: the "Poor Clares". The Poor Clares depended only on almsgiving and had complete faith on God to provide for them through other people. She and her order lived a simple life of poverty, austerity and seclusion from the world. They went barefoot, slept on the ground, did not eat meat and observed silence.
Clare lived in the convent of San Damiano in Assisi and she served the sick, washed the feet of beggars, and prayed fervently. Although she never left the convent, she had such a great influence that popes, cardinals and bishops often came to consult her. Her Feast-day is August 11th, but you can pray her novena at anytime.
St. Clare of Assisi Novena Prayers