St. Bernadette Novena
New here? Join us in Prayer! Click here to get novena reminders by email!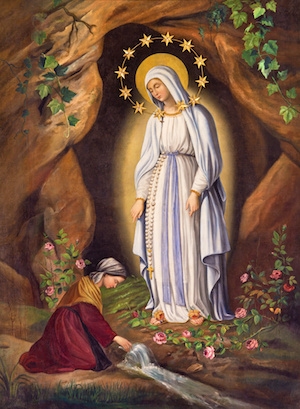 St. Bernadette is best known for her visions of the Virgin Mary in 1858 in Lourdes, France and for the healings that have taken place at the location of the visions. There have been 69 documented miraculous healings to date and many more that are undocumented.
This novena is heavily based on quotes from Bernadette's life. Everything in italics is directly quoted from St. Bernadette. By praying this novena, you are praying the prayers the saint herself prayed! You can learn more about St. Bernadette at the bottom of this page.
Dear Saint Bernadette, your apparitions have led so many to God's healing waters through Mary. Lead us to a place of healing through this novena.
St. Bernadette Novena Prayers
About St. Bernadette
St. Bernadette was raised in poverty. Her family was evicted from their mill when Bernadette was young. She had very little education and was said to be a slow learner. She suffered from poor health most of her life, because she had cholera at a young age.
Bernadette is known for her visions of our holy mother, Mary. The first apparition occurred when she was gathering wood with her sister at the age of 14. Bernadette did not know who the "small, young lady" was, but when the lady started to pray the Rosary, Bernadette did likewise. Bernadette returned to the grotto and the third time she saw the vision, the lady asked her to return every day for 15 days.
Most days consisted in praying the Rosary. During the 8th apparition, Mary told her "Penance! Pray to God for the conversion of sinners." She asked Bernadette to "get down on her knees and kiss the ground as a penance for sinners." During the 9th apparition, Mary told Bernadette, "Go drink at the spring and wash in it." Bernadette looked around but there was no spring! Mary pointed to a place where Bernadette found a little muddy water, so she started to drink and wash herself in the muddy water. She did this multiple times until the water was no longer so muddy. At this point, many thought she was crazy. However, that water continued to flow and is now the source of the healing waters at the grotto. Local authorities tried to prevent her from going to the grotto because she was drawing a crowd, but she was obedient to Mary and kept returning to the grotto. On the day of the 15th apparition, a girl was cured of her blindness after washing her face in the spring and being kissed by Bernadette.
Bernadette had asked the lady's name multiple times, but it was not until the 16th apparition that the lady told her "I am the Immaculate Conception." This is a reference to Mary who was conceived in her mother's womb without the stain of original sin. Bernadette did not know the meaning of the words, which helped solidify the belief of those who visited the grotto that it was the Virgin Mary who was appearing there.
There were 18 apparitions total, after which Bernadette never again saw a vision of Mary while she was alive. Bernadette became a nun. Her mistress of novices at the convent, believing that Bernadette must have developed an inflated ego from all the attention she received from the apparitions, was hard on her. Near the end of her life, she developed tuberculosis in her knee that was very painful for her. She was surrounded by the sisters of the convent praying for her when she died. Though her body was frail from illness in life, she is now recognized as an incorruptible saint, meaning that her body has not decayed with time.
St. Bernadette's Patronages
St. Bernadette is the patron saint of…
Physical illness
Lourdes, France
Shepherds and shepherdesses
Poverty
Those insulted for their faith
Family
To learn more about St. Bernadette, Bernadette Speaks: A Life of Saint Bernadette Soubirous in Her Own Words is a book that includes St. Bernadette's testimony on the apparitions along with many other details concerning her background. The Song of Bernadette is a movie that is loyal to her testimony.
Click here to find more novenas like this one.
Sign up here to pray more novenas with thousands of faithful people from around the world!