Our Lady of Lourdes Novena
New here? Join us in Prayer! Click here to get novena reminders by email!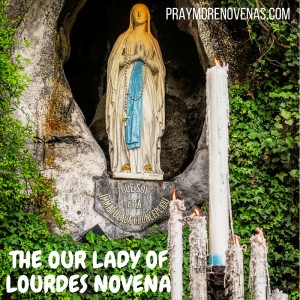 Saint Bernadette was a young girl gathering firewood in the French town of Lourdes with her sister and a friend when the Virgin Mary appeared to her and spoke to her.
Our Lady appeared to Saint Bernadette a total of 18 times! During these apparitions, Bernadette asked her name and Mary replied: "I am the Immaculate Conception." Another time, Our lady told Bernadette where to dig to find a miraculous spring. And another time, Mary told Bernadette to build a church at the grotto where she had appeared to her.
The image of Mary at Lourdes is known as Our Lady of Lourdes, Our Lady of the Immaculate Conception and Our Lady of the Rosary.
The water from the miraculous spring has cured and healed many people ever since. Millions of pilgrims go to Lourdes to see the place where Mary appeared and to bathe in the spring to be healed and blessed.
Our Lady of Lourdes Novena Prayers