St. Augustine Novena
New here? Join us in Prayer! Click here to get novena reminders by email!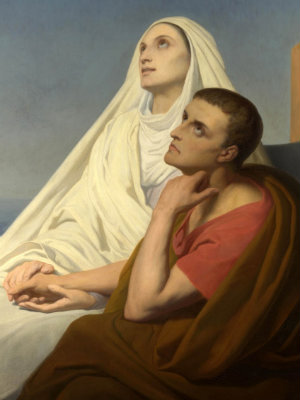 St. Augustine is one of the greatest defenders of the Catholic faith and the patron saint of searchers. At the end of nine days of prayer, we hope to find the God that saved Saint Augustine waiting to deliver us from temporal concerns through his kind intercession.
You will be inspired by reflecting on the life of Saint Augustine and his transformation from a life of sin and iniquity to become one of the greatest saints the church has ever known.
About St. Augustine
St. Augustine was born in Africa to Saint Monica and spent the early part of his life living in sin and depravity. Though he was brought up as a Christian, he abandoned Christianity in favor of the loose morals espoused by a religious group called the Manicheans. During St. Augustine's dark days, his mother Saint Monica incessantly prayed for his conversion back into the fold of God's Grace, aided also by prayers of the Bishop of Milan, St. Ambrose.
A highly intelligent man, even then St. Augustine used to compare his life to Christian morals but was not confident he would be able to lead a pure life. After hearing of two simple men being converted, he decried the cowardice that prevented a learned person like him from pursuing the Kingdom of God. He believed that he heard God's command when he heard a child singing "Take up and read", and in compliance read the first passage of the Letters of Saint Paul which advised people to put away all impurity and to live in imitation of Jesus.
He was baptized at Easter on 387 A.D. and went on to become one of the most prominent defenders of the faith. At his conversion, he sold his possessions and lived a life of poverty, service to the poor and prayer until the end of his life. He founded the Order of Saint Augustine, who continued his early work to educate the faithful. His search for truth resulted in his clear explanations of Roman Catholic beliefs, including theological writings on creation, original sin, devotion to the Blessed Virgin Mary, and biblical interpretation.
St. Augustine is revered as the Patron Saint of searchers to commemorate his search for truth and the One True God.
St. Augustine Novena Prayers