St. Benedict Novena
New here? Join us in Prayer! Click here to get novena reminders by email!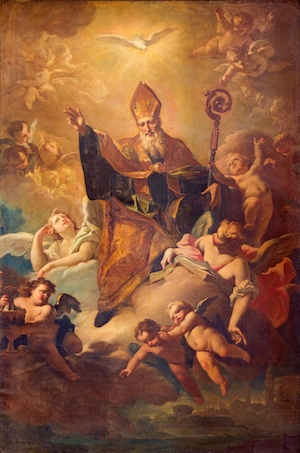 St. Benedict's feast day is July 11th but you can pray the St. Benedict Novena for any reason that you want, so go ahead and start praying!
St. Benedict is a popular saint, known primarily for the Benedictines, who are named after him, and for composing the Rule. All italicized words in the novena prayers are quotes from the prologue of Benedict's Rule, so that we may not only ask for his intercession, but also ask him to pray with us using the words he himself wrote. The Rule combines spiritual and administrative wisdom to provide guidance for the religious who wish to follow the monastic lifestyle. It includes a schedule for daily life tasks such as when to pray, work, and sleep. Many religious orders around Benedict's time adopted it for their own religious orders and many still use it today. But it is not just those in religious orders whose lives seem to follow some kind of "rule." This novena will pray for all those who are subject to and disciplined by schedules, either in accordance with or against their wills.
About St. Benedict
St. Benedict was born in Nursia, Italy around 500 AD. Born into a wealthy family, he was sent to Rome to finish his studies, but he left Rome before finishing because of the sinfulness in the city. He became a hermit under the monk, Romanus. Some monks sought out St. Benedict to live according to his ways, but he warned the monks that it would be too strict for them. They insisted, and once they found that Benedict had been correct, they decided to poison him. When St. Benedict blessed the poisoned wine that they offered him, the glass shattered, saving his life.
Benedict left them and established twelve monasteries. It was for his monastery in Monte Cassino that he wrote the Rule for which he is known. The Rule, based on the writings of saints and the existing tradition of Christian monasticism, provides guidance for how to practically live the monastic life. It designates sufficient time for daily prayer and meditation, manual work, leisure, and sleep. It provides instruction on spirituality (e.g., obedience, humility), daily life practices (e.g., how to dress, how much food to eat at meals), and specifics concerning how to run a monastery (e.g., how to receive guests and handle unacceptable behavior from the monks).
St. Gregory wrote a biography on St. Benedict, which is how we know some of the details concerning his life (though it is not written in a way that we would think of as a biography). He wrote it primarily to inspire the people at a time when there was political conflict and conflict in the Church, so that they could better recognize that God was still working through His people. May it still lift our spirits to know that there are Benedicts in the world even today, who show us that God is still with us in every age throughout history.
St. Benedict Novena Prayers
Patronages
St. Benedict is the patron saint of:
Against poison
Against witchcraft
Agricultural workers
Cavers
Civil engineers
Coppersmiths
Dying people
Erysipelas
Europe
Farmers
Fever
Gall stones
Heerdt, Germany
Heraldry and Officers of arms
The Institute of Christ the King Sovereign Priest
Inflammatory diseases
Italian architects
Kidney disease
Monks
Nettle rash
Norcia, Italy
People in religious orders
Schoolchildren and students
Servants who have broken their master's belongings
Speleologists
Spelunkers
Against temptations
Click here to find more novenas like this one.
Sign up here to pray more novenas with thousands of faithful people from around the world!