St. Philip Neri Novena
New here? Join us in Prayer! Click here to get novena reminders by email!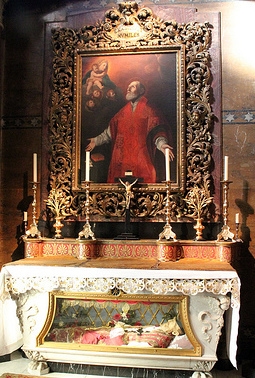 Saint Philip Neri, also known as the Apostle of Rome, was an Italian priest in the 16th century. He is especially noted for founding a society of secular priests called the Congregation of the Oratory.
Saint Philip Neri is also especially known for showing the humorous side of holiness, as well as for being extremely humble — as humility was one of the most important virtues he tried to teach others.
When asked how to pray, Saint Philip Neri would respond, "Be humble and obedient, and the Holy Spirit will teach you."
His feast day is on May 26th, but you can pray through his intercession any time!
This Novena prayer is by John Henry Newman
St. Philip Neri Novena Prayers
More on St. Philip Neri
Saint Philip Neri was born in 1515 in Florence, Italy. He was spontaneous, a little impulsive, and very cheerful.
He's quoted as saying, "Cheerfulness strengthens the heart and makes us persevere in a good life. Therefore the servant of God ought always to be in good spirits."
He was born into a family that was not successful financially, and when St. Philip was eighteen, he was sent to work with a successful businessman.
During that time, he spent hours praying, which led to his decision to dedicate his life to God, leaving worldly success behind.
It's noted that Saint Philip Neri liked to pray during the evenings, and that he received energy during his prayer that enlivened him to serve God throughout the day. He established a confraternity before being ordained as a Priest in 1551.
Saint Philip loved to hear confessions, but he knew that the young people he administered to needed more than absolution. He created a group that would do just that, which was called the Oratory. That soon led to the creation of a church called Congregation of the Oratory.
Saint Philip Neri died in 1959 after battling a long illness. He was eighty years old.
Patronages
Saint Philip Neri is the patron saint of….
Joy
Practical
Jokers
Cheerfulness
Click here to find more novenas like this one.
Sign up here to pray more novenas with thousands of faithful people from around the world!