St. Jude Novena
New here? Join us in Prayer! Click here to get novena reminders by email!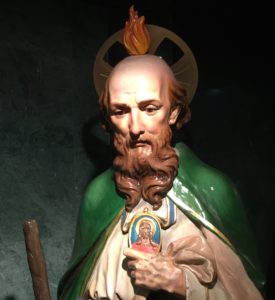 Saint Jude is the patron saint of Hopeless Causes and Desperate Situations.
Pray these novena prayers to Saint Jude with confidence. Catholics have relied on his intercession in times of extreme need for centuries.
This Apostle and Martyr has helped countless souls through his epistle in the New Testament and his intercessions on behalf of those who seek his aid in times of trial.
Pray this St. Jude Novena for your intentions asking St. Jude to intercede to God the Father, His Son Jesus Christ and the Holy Spirit on your behalf!
We like to say that he is the patron saint of "Impossible Causes" because even though something may seem hopeless, with God there is always hope.
Answered Prayers from the St. Jude Novena
Here is a testimony about one example of St. Jude answering prayers for someone who prays novenas with us here at PrayMoreNovenas.com:
"[My son] had a hard time and struggled, but I believe that God heard my prayers to St. Jude asking for my son to be successful — and the prayers were answered. My son passed all his exams and worked his way up from the lowest position in a hotel and today he is General Manager of this hotel. As a little boy, he had dyslexia and so school was not an easy road for him but with constant prayers to St. Jude, he succeeded."
– Annabella
About St. Jude
Saint Jude was one of Jesus' twelve original apostles, so we can conclude that he was also at the Last Supper. Saint Jude is also known by the name Thaddeus, which means sweetness and gentleness of character.
He is not the traitor Judas Iscariot, instead he is a very holy apostle.
Saint Jude, rather, followed Jesus faithfully until His crucifixion, and then later worked on evangelization. Very little is known about his life, but we do know that he died as a martyr — some say around 65AD, giving his life to Jesus Christ.
He is now one of the most invoked saints for intercession in desperate situations because his New Testament letter stressed the importance of a faithful person persevering in the environment of harsh circumstances.
St. Jude Novena Prayers
Why Pray the St. Jude Novena?
You can pray the St. Jude Novena for any prayer request that you want. But there are some specific things that he is the patron saint for which many people seek out his intercessory prayers. Saint Jude is the patron saint of:
Lost Causes
Desperate Causes
Hospitals
This Holy Apostle, St. Jude, is a powerful intercessor and the St. Jude Novena will bring you great comfort.
Click here to find more novenas like this one.
Sign up here to pray more novenas with thousands of faithful people from around the world!