Novena for the Conclave
New here? Join us in Prayer! Click here to get novena reminders by email!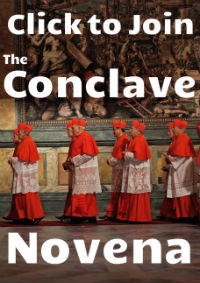 With the retirement of Pope Benedict XVI, we will be doing a novena for the conclave.
There has been great interest in this novena, however there are no details on when the conclave will take place. We are waiting on word from the Vatican.
May God guide the Church in this important time!
We will pray the Novena to the Holy Spirit accompanied by the following prayer:
Novena for the Conclave Prayers